Central atollsMaintenance
11-Dec-2022 to 18-Dec-2022
Male to Male
17 spaces available
11-Dec-2022
embark:
Male
17 spaces available
18-Dec-2022
disembark:
Male
Lower Deck Twin or Double
17 spaces
Mandatory extra charges per person
Green Tax $6 per day, Service fee $100
Itinerary
Whats Included?
Why you should choose Conte Max:
Experienced Crew and Free Nitrox, 6:1 guide to guest ratio, Wifi available, EIFAC boat certified, One single cabin available, Masseuse on board, Italian and international cuisine.
When Conte Max was launched, the Maldives did not offer many boats of such high comfort and standard as an alternative to the islands resorts and also for those who did not engage in diving activities. With minimum 8 or 9 staff plus a cruise director, all either European or Italian mother tongue, and 2 Maldivian dive guides, the crew will happily offer their best service to all 17 guests onboard in 9 cabins.
The cabins are 1 Upper deck cabin with one queen size bed and one single bed, 1 main deck twin cabin, 4 triples with one double bed and one single bed and 3 Twin beds cabins on the Lower deck.
All cabins feature independently adjustable air conditioning, bathrooms with shower cubicles and no bunk beds.
A masseur is also available on board.

With the launch of Conte Max a totally new trend was set. Thanks to its increasingly refined cuisine, the staff that was raised with the boat, and customer service class and attention to detail, Conte Max has become one of the best known and most loved yacht among those who for years have not been able to do without regular visits to the Maldives to discover with us what these islands have to offer, both above and below the sea surface.
In the owners words ""We shape the trip based on the guest's expectation and desires in order to create the best atmosphere in a dream like adventure. "Their experience and knowledge is offered to all their guests in every destination in a unique way: "As routine does not exist for us, every trip is a different experience, unique and unrepeatable."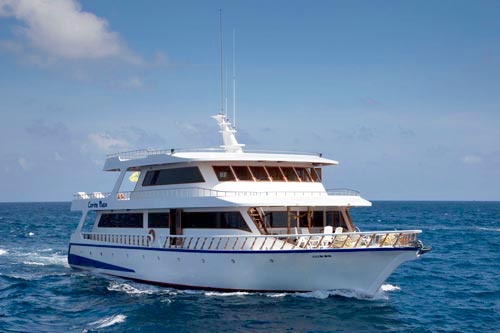 Conte Max - prices and what's included
Prices are per person per trip and based on 2 persons sharing a cabin.
Exact pricing is available on the schedule here as prices vary dependant on the time of year, destination and the length of the trip and sometimes special offers are available.
The trip price includes:
Accommodation in twin / double shared cabin with en-suite bathroom
Meal Plan Full Board, 3 meals per day & afternoon snack
Unlimited drinking water, tea & american coffee & fresh fruit (bananas)
Airport transfer by Dhoni
Diving & night diving
Free Nitrox
Diving Dhoni (Diving boat for divers & for all other activities)
1 Free Scuba Try in the lagoon (from 8 years old) for non-divers; equipment included
Snorkelling assisted
One or two sunset fishing during the week & Trolling fishing during navigation
Free use of the kayak
Assistance for surfing cruises
Excursions, island hopping & to Malè City (only for trips in Central Atolls)
GST Tax included at 12%
Specialized Staff assistance & 3 Instructors/ Dive Master onboard
The trip price does not include:
Cabins No.9 on the main deck and cabin No.11 on the top deck have a supplement of US$200 per person on top of the base price for a 7 day trip.
Beverages alcoholic and non-alcoholic
Fees for desert & touristic islands when requested.
Dinner on the Beach when requested, weather and Covid permitting (from Usd 10 to Usd 18 p.p. to be paid on board)
Diving & snorkelling courses
Rent of diving and snorkelling equipment, to be requested at booking
Service Charge of $10 per person per day
Green tax $6 per person per day
Any flights
Wifi - $30 per week
Onboard expenses/purchases +10% service and +12% GST
Dive insurance is mandatory as is your own personal dive computer (You can rent one for the trip if you do not have your own).
As well as the Mandatory Dive Insurance we highly recommend Trip and Travel Insurance on the off chance of missed or cancelled flights / lost baggage, documents, money or passport / Covid issues or any other unforeseen problems that could possibly occur.
Dive Assure Insurance offers cover for all these eventualities as well as complete Dive Insurance all in one package.
All what is not specified in "The trip price includes"
If you wish to have the cabin to yourself, the single cabin supplement is +80% from the individual rate.

Discount and Child Policy
Children (from 2 – 11 yo) sharing a cabin with 2 adults pay only US$400 – diving is not included.

Single cabin surcharge (Single supplement to have one person in a cabin) is 80% of the cost of the second place in theb cabin, so 180% of the base rate.
Group Booking Policy:
For a group of 10 paying guests, we offer 1 space free of charge (11th person FOC).
For full charter (based on 16 people) your group will receive 2 free spaces (FOC) so 14 paying + 2 FOC.

Booking and Cancellation Terms and Conditions.
Booking deposit: 30% of your invoice total is required within 7 days of booking to confirm your booking.
Final payment of 70% is due to 90 days prior to the departure date to complete your invoice payment.
Individual bookings made less than 90 days before the departure date will be payable in full upon booking to confirm your booking.
Cancellation at any stage involves forfeit of monies already payed.
Diving Equipment Rentals (USD) Per week
Full Set (regulator, octopus, BCD, wetsuit, mask, fins, dive computer) $ 200
Regulator with octopus $ 80
Computer $ 80
BCD $ 80
Wetsuit (shorty 3mm) $ 80
Mask $ 20
Fins, mask, Snorkel $ 70
Torch per dive $ 15
Conte Max - cabins
Lower Deck Standard Twin Cabin
3 Lower Deck Twin bed Cabins.

Lower Deck Double / Twin / Triple Cabin
4 Lower Deck double / twin / triple cabins with one double bed and one single bed.

Main Deck Twin cabin #9
1 Main deck cabin with twin beds

Upper Deck cabin #11
1 Upper deck cabin with one queen size and one single bed
Conte Max Cabins
There are 9 comfortable cabins available onboard.
1 Upper deck cabin with one queen size and one single bed
1 Main deck cabin with twin beds
4 Lower Deck double / twin / triple cabins with one double bed and one single bed.
3 Lower Deck Twin beds cabins.
All cabins feature independently adjustable air conditioning, bathrooms with shower cubicles and no bunk beds.
Conte Max - itineraries
AIRPORT TRANSFER: for arrivals and departures the transfer will be arranged complimentary by Luxury Yacht Maldives, meeting time at the airport to be confirmed depending of the arrival time (morning embark).
Disembark at 08.00 am, Malè time.
All the transfers, other than regular cruise arrivals and departures, will be arranged upon request by Sea Plane or speed boat and charges will be applied.
For the Northern & Southern cruises Transfers will be done according to domestic flights schedule.
Conte's professional Diving Team has a long experience and the necessary instruments to take you to the best spots of these enchanted places.
Dive Masters, Ali and Rasheed, have been working with them for more than 20 years.
In the Maldives the various dive sites can be classified into 4 major types:
Diving along the external reef of the atoll (ocean reef)
Diving on the 'thilas' inside the atoll or in the channel
Diving in 'passes' (kandu)
Diving wrecks 'around the Giri'
Be prepared to experience a lot of action with the savvy guides of Conte Max.
The boat-leader will explain to you all the varieties and choices offered on the liveaboard cruise; you will be free to choose the right one for you.
The itineraries will be custom made (weather allowing) according to guests expectations.
Central Atolls
This cruise will show you six different atolls (North & South Male, Felidhoo, Vattaru, Mulaku, South Ari), the departure and return is from / to Hulhule airport island.
Heading South straight away, sailing within the Eastern edge channels, among which Emboodhoo Kandu, Cocoa and Guraidhoo Kandu, Devana Kandu, Fotteyo, Rakeedho Corner, Vattaru and Mulaku Kandu.
From there you will cruise the inner portion of the atoll heading to the Southern edge of Ari Atoll, where you will hopefully enjoy the famous whale shark watching at Maamigili ocean reef.
You will then sail northwards through the atoll taking in beaches, desert islands and sandbanks.
After the must-see destinations and the most famous thilas, you head back to North Male.
On second to last day it will be possible to visit the Capital, Male, for some land sightseeing.
North Itinerary
This expedition has been specifically timed to coincide with the most productive monsoon winds and lunar currents, which strongly influence the movements and feeding habits of reef manta rays.
The aim of this trip is to use the knowledge of Manta Trust experts to find these feeding aggregations and allow the guests to experience the wonder of immersing yourself amongst a feeding frenzy of these gentle giants.
On this expedition we will explore the northern atolls of Baa, Raa and Lhaviyani diving on untouched reefs and looking for aggregations of feeding and cleaning manta rays.
Baa Atoll is off the main route for the majority of dive liveaboard and we will venture into this more northern atoll specifically to seek out the feeding mantas and hopefully a few whale sharks as well.
To see several of the world`s largest fish feeding amongst dozens of the world`s largest rays is something most people will never forget.
Just north of Baa we will venture into Raa Atoll , a region regularly visited by mantas and hosting some stunning dive sites. Vertical walls covered in soft corals, gardens of anemones and mantas gliding above our heads are only a few of the marvels of this atoll.
Before descending back to Malé we will finally visit Lhaviyani Atoll, another spectacular northern atoll. Here sharks, schools of eagle rays, tunas and other large pelagic fishes will be the main characters of our dives with the possibility of encountering here more manta rays and dive on one of the most spectacular ship wrecks in the country.
While the weather in the Maldives at this time of the year is likely to be more changeable, these monsoonal conditions are exactly what create the planktonic blooms upon which the mantas and whale sharks aggregate to feed. Furthermore, we can never guarantee these natural events, but we have put together a trip, which maximises our chances of being in the right place at the right time, guided by the expertise of a Manta Trust scientist
The Best Five
The best time to embark on this cruise is certainly during our winter months when the northeast monsoon blows in the Maldives.
The success of the dives is also linked to this period, which, carried out mainly on the eastern side of the atolls (East route), will see the best current conditions , excellent water visibility , the possibility of meeting with large pelagics.
In addition to that, underwater photographers will be exposed to beautiful points for their shots.
We offer this cruise all year round and you can choose between two itineraries, the East and the West route
The Best Seven
The extreme South Maldives crossing cruise is one of the most exciting routes you can ever experience in the Archipelago.
Getting out of the most commonly frequented courses, we navigate to the Equator starting from South Male atoll, quickly crossing the next atolls of FELIDHOO AND MULAKU. Not neglecting diving the most famous sites of such locations, preparing ourselves to the greater emotions of South Huvadhoo and Foammulah channels.
We will not forget to explore the most celebrated: a bit of training in the most celebrated passes of Maldives, where big pelagic and migratory shark encounters are guaranteed.
Passing through THAA ATOLL we will spend the first night awaiting for the habitual visit of Whale Sharks: the largest shark of the ocean uses to stop by our stern lights to feed on the surface plankton, attracted by the powerful lighting; this will grand us unbelievable moments of close-by and undisturbed observation.
One more amazing feature is represented, upon arrival at Thaa's edge, by the visit of Bryde's whales who, just like grown dolphins, love to follow the boats diving up and down in their proximity. Next stop of navigation is the passage by LAAMU ATOLL: another scarcely attended destination, where we seldom cross other safaris, as it's almost exclusively a passage point. But it's denitely worth it to rest there for a while in order to fully enjoy its extraordinary channels, where it's not unusual to meet cartilage sharks, migratory shark and large predators, in a triumph of colors given by corals still in health and entirety. And we make it to SOUTH HUVADHOO, the second largest atoll on Earth.
Despite its great dimensions, dives in the North East monsoon season are concentrated in short tracks of navigation along the eastern edge, which is why lingering in Huvadhoo is absolutely recommended to non-divers too, who can enjoy the uncountable pristine beaches and sandbanks, where they might dedicate to swims and tanning with no comparison.
The Best Nine: Extreem South
Don't miss your chance to visit pristine atolls, wandering around truly deserted islands with their immaculate beaches and most of all dive the unforgettable dream locations of HUVADHOO, FOAMMULAH and ADDU atolls with their wildest encounters.
On these expeditions we will explore the wild and least visited south of the Maldives, to dive on some of the most stunning and untouched reefs the country has to offer discovering wonderful sea creatures.
Our trip will also allow us to meet the still scarcely known population of the oceanic mantas. At this time of the year they aggregate in a remote southern atoll, and our routes will allow some of the most breath-taking underwater encounters with the largest rays of the planet! During our journey we will have chances to dive not just with manta rays.
The far south of the Maldives is shark territory and here we will have the opportunity to dive with Tiger sharks, Whale sharks (especially during the night), the rarest thresher sharks and hammerhead sharks, schools of eagle rays and turtles, Landed at the international airport of Malè, by domestic flight we will arrive in HUVADHOO, the second largest atoll on Earth.
Despite its great dimensions, dives in the North East monsoon season are concentrated in short tracks of navigation along the eastern edge, which is why lingering in Huvadhoo is absolutely recommended to non-divers too, who can enjoy the uncountable pristine beaches and sandbanks, where they might dedicate to swims and tanning with no comparison.
Channel dives are universally known as possibly among the most exciting of the world, where the drop-os remind of theatre galleries deliberately designed so the public can freely enjoy the show of sharks passing by.
Those who don't mean to face the depths with scuba units, but would rather stick to observing sharks and corals from above, won't be disappointed by the snorkeling tours.
Great coral towers, soft and hard, still in very good conditions, host hundreds of species of barrier sh who are not frightened yet by the human presence. Given the large amount of seagrass, besides, there is a very high number of green turtles, often observed in more than one specimen per site.
One more thrilling activity to carry out in this faraway atoll, whose pace is still imposed by Nature, is fishing.
While sailing you can experiment the catch of large individuals of sailfish, oceanic tunas, marlins.
Also line fishing can grant anyone incredible satisfaction due to the large amount of sharks still living in these Southern seas. The atoll is actually popular for its tuna factories, whose fishing remains one of the few really sustainable on the Planet.
Conte Max - specs
Technical Details
Construction year : 2004
Length : 33 mt.
Raft : 3 mt
Speed (knots) : 12
Construction material : wood
Dry dock : Every year
Width : 10 mt
Weigth (tonnes) : 140
Cruising Speed : 12 knots
Decks : 3
Diving Dhoni - Niumath with cabin for the crew
Length : 16 mt
Width : 5,5 mt.
Engine : Daywoo 120 HP
Toilette : Yes
Water tube : Upon request
Water tube for camera : Upon request
Safety buoys : 1
Fire extinguishers : 2
Dry dock : Every year
Medical oxygen : 1 tank DAN
Compressors : Electric
Captain : 1
Crew : 2
Overall people capacity : 22 pax
Fresh water : Yes
Diving baskets : 24
Ladder : 1
Life jackets : 25
Emergency kit : 1
Oxygen mask : 1
Generator : kohler 55kw
Conte Max - diving
Maldives dive sites
Kudarah Thila
Type of dive: Reef dive

Description: One of the best dive sites for soft coral and fish life.

The marine life here is so abundant, that the divers have named it 'fish soup'. The thila is in a circular shape and can be covered in a single dive at different depths, if the current is not very strong.
Maaysa Thila
Type of dive: Reef dive / Night dive

Description: The thila is about 80mters in diameter.

The whole thila can be done at different depths in a single dive. There are manycaves and overhangs around the thila. The large rocks on the north eastern side have large black coral trees growing on them. The site is famous for the sharks and a great barracuda which reside here. The site can be dived at any time of the day, each with different activity going on the reef. The best chance to get close to these creatures is at night time, when they are hunting. You will see sharks, barracudas, rays and eels trying to grab a morsel.
Bathala Maaga Kanthila
Type of dive: Drift dive

Description: The northern tip of Magaa reef extends into Bathalaa Kandu and is home to a number of grey reef sharks and white-tip reef sharks. They can be seen patrolling along the reef looking for food.
Maalhos Thila (Blue Curves)
Type of dive: Drift dive / Reef dive

Description: The thila is known for the abundance of soft coral growth on the thila, particularly the blue/violet colored variety that grows on the ceiling of the caves and overhangs, thus the name 'blue caves'. In addition a large variety of fish life can be observed here.
Rasdhoo Madivaru
Type of dive: Drift dive / Channel dive

Description: The reef on the southern side of Rasdhoo drops vertically to the ocean depths. The site is home to a school of Scalloped Hammerhead sharks (sphyrna lewini). In the early hours of the morning they rise from the deep waters off the atoll into the shallower depths, accessible to divers.
South Male Atoll - some of the more popular dive sites
Guraidhoo Kandu South
Type of dive: Drift dive / channel dive

Description: Since the eastern side of the channel is Open Ocean, large predatory fish can regularly be spotted here. This site is famous for sightings of sharks, schools of eagle rays and the occasional Sail fish and Hammerheads. The best condition to do the dive is when the current is flowing into the Atoll. The dive begins on the outer reef following the current into the atoll. Most of the pelagic species can be observed on the eastern side, where the reef drops off into the deep ocean.
At the end of the dive in the channel, along the reef you can find overhangs with plenty of soft coral growth and small fish.
Kandooma Thila
Type of dive: Drift dive / reef dive

Description: Located in a channel, the reef is subject to strong currents at times. The ocean currents carry lot of nutrients to the reef, supporting an abundance of sea life.
The site is well renowned for the soft coral growth, turtles, diverse fish life and invertebrates found on the reef. At the reef slope you may find sharks and eagle rays.
Embudu Kandu (Express)
Type of dive: Drift dive / channel dive.

Description: Similar to Guraidhoo Kandu, but more sharks are likely to be spotted here.
The currents can be very strong at times. The stronger the current however the better chance of seeing sharks. Under the guidance of an experienced dive guide, the dive can be managed done easily.
Conte Max - faqs
What time is the embarkation, boarding and departure?
The embarkation time is usually in the morning, but it also depends on the arrival of the international flights of the guests.
Ideally you should aim to arrive early morning or before 10 am on the first day of the trip.
It is also recommended to arrive one day early and stay on the airport atoll (HulhuMale – NOT Male), there are a mixture of hotels and guest houses to choose from so please check booking.com and search for Hulhumale. Your hotel / guest house will then deliver you back to the airport the following day (the day of departure) where you will be met by the boats representatives at airport arrivals and taken directly to the ship which is anchored offshore near the airport, you will journey over on the dhoni (the boats 15m dive boat) to join the main ship. Please check with your hotel to see if there is any charge for this transfer as some offer it for free and some charge for this service. This is the only meeting point for the boat pick up, it is not possible to pick guests up at their respective hotels if you arrive early due to the distances involved between atolls and the time involved.
The checkout time is at 8 am on the last day of the cruise. Guests will be in the airport by 8:30 am accordingly.
The day before there are only 2 dives ending around lunchtime so you may fly out in the late morning and still have the requisite no fly time required – Always refer to your dive computer for this but PADI recommends 18 hours.

Can I buy a local phone card?
Phone cards are available for sale at the airport. They are GPRS enabled so you can pick your email on your phone nearly anywhere on the trip at very reasonable rates. Please make sure you tell you guest rep that you want one before you leave the airport.